Because all of my items are hand-painted, they can be designed specifically to fit your request - a type of design, a child's name, a specific piece of furniture. Let me know if you are interested in a custom design.
I also offer mural painting for local clients at $40/hr.
There are additional charges for custom orders on existing items. Here's how they work:
Simple first name
- no charge

Full name/date or saying
-no charge
New design on small item
- add $25
New design on large item
- add $35 or more

See more custom samples



Furniture for kids and children. Custom-made, handpainted furniture that brightens any child's play space. Nursery furniture that coordinates with what you have. Furnishings for babies, toddlers, kids - any child! Furniture that endures a child's touch! Children will love this handpainted furniture because it is especially for them. Give the most treasured gift at the baby shower - custom, handpainted children's furniture.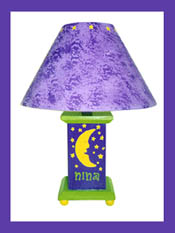 lamps
chairs
clocks
frames
bookcases
toy chests
step stools
coat rack
picnic tables
switch plates
floor mats
bedside table
table & chair
night
bugs
frogs
boat
star
maine
hands
shells
jungle
flowers
clouds
squiglie
octopus
ladybugs
moo/oink
baseball
day/night
bee/flower
tick tock
summertime
gone fishin'
farm animals
butterfly
gone sailin
anchor's away
transportation
stars & stripes