Fun Friends/Bug Theme.
Bug Theme. If your child enjoys littel critters then s/he will love this theme. Bugs is available on all of my products. Brighten your child's room with a bug lamp. A bug stepping stool will make brushing teeth more fun. The bug theme on the bedside table or a bookcase will coordinate your child's room!
Furniture for kids and children. Custom-made, handpainted furniture that brightens any child's play space. Nursery furniture that coordinates with what you have. Furnishings for babies, toddlers, kids - any child! Furniture that endures a child's touch! Children will love this handpainted furniture because it is especially for them. Give the most treasured gift at the baby shower - custom, handpainted children's furniture.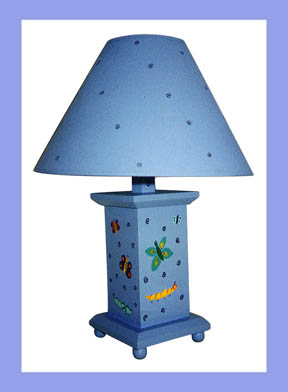 lamps
chairs
clocks
frames
bookcases
toy chests
step stools
coat rack
picnic tables
switch plates
floor mats
bedside table
table & chair
night
bugs
frogs
boat
star
maine
hands
shells
jungle
flowers
clouds
squiglie
octopus
ladybugs
moo/oink
baseball
day/night
bee/flower
tick tock
summertime
gone fishin'
farm animals
butterfly
gone sailin
anchor's away
transportation
stars & stripes
BUG / FUN FRIENDS THEME
All themes are available on all products
LAMP PRICE:

Small $83.95
Large $89.95

LAMP DIMENSIONS:

small = 4.5 x 11 x 4.5 (with shade = 15H)
large = 4.5 x 14 x 4.5 (with shade = 18.5H)

Home | Order Info | Themes | Custom Orders